La Havana

2018 | Personal Project

A ticket to La Havana three days before Trump's restrictions, documented via disposable camera and collaborative haikus.
---
The four of us spent considerable time beforehand fretting about trouble at customs. We expected heavy scrutiny about our plan to engage in People-to-People exchange, as there were rumblings that the new administration planned to shut the whole thing down.

We passed through the screening without a second glance. We did, however, field a good number of questions from the Cuban people. Almost all conversations started with a joke about Trump, followed by genuine curiosity. We inquired if their lives had changed much post-Fidel. In almost every conversation we came to the uniting consensus that people are people, and government is government. Every interaction stressed a desire for deeper connection between our two worlds, and a swapping of Facebook profiles.


Mi sol eterno
Shh- Me está llamando
Taxi más lindo
Angel Gabriel
Hasta que valga nueve
Fábrica black hole
Viazul beso
Another jovencito
Viñales—a dream
Dance invitation
People to people exchange
And she makes us cry
Delirious walk
Peso change proposition
Cat calls cállense
Captain leaves her post
"I can draw you a picture"
Most questions answered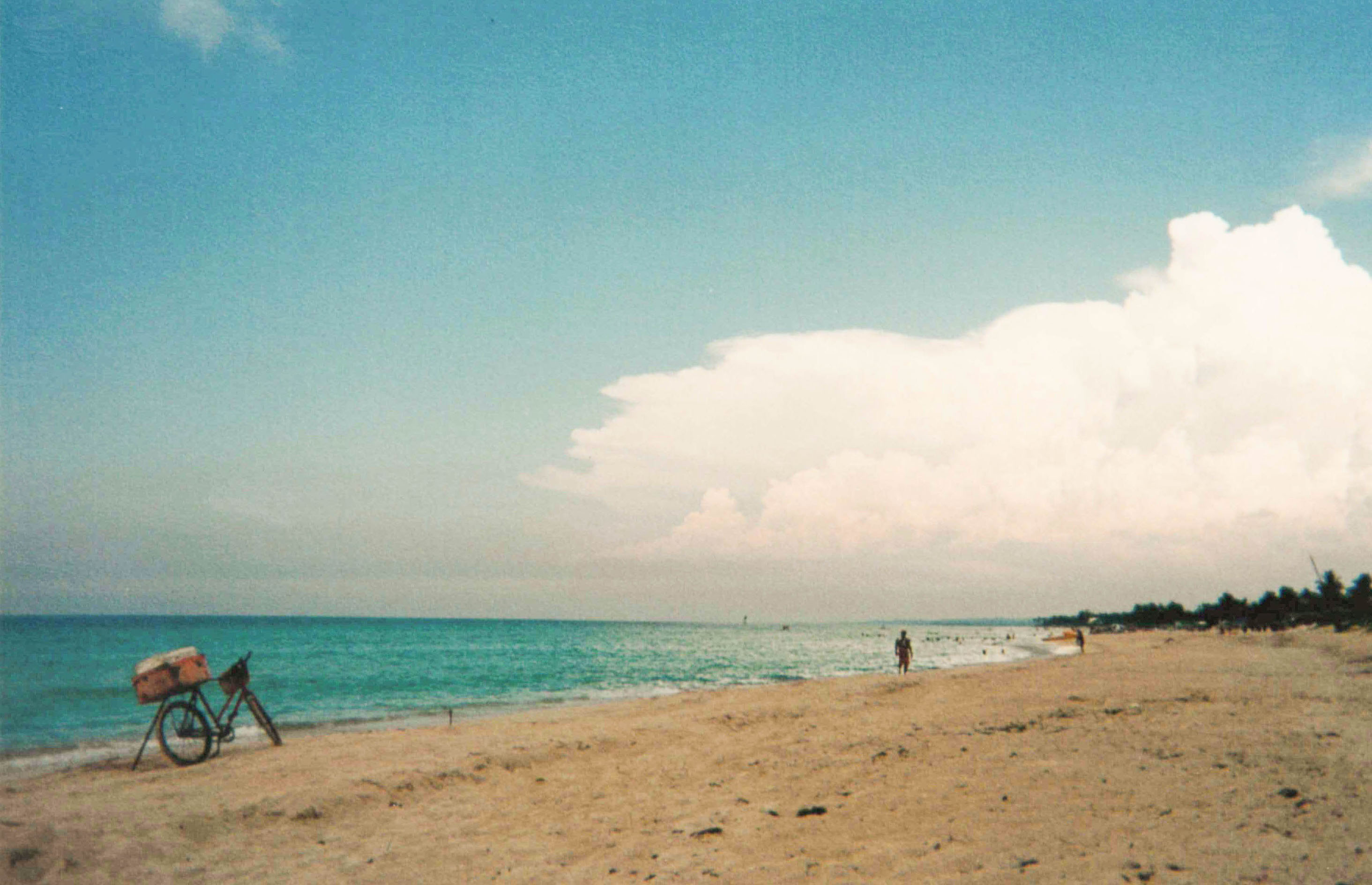 Monsoon gin rummy
Never remember the wait
Deadly pizza joint
Guagua in the rain
Unequal bathroom shakedown
China más dura
Breakfast con Néstor
Galería sin nombre
Tattoos on entry
"I don't want money"
La doña me da miedo
En busca de ron
Our first AirBnB host was a feisty woman who made a mean mango smoothie. She chatted at length about the clothes shopping she did in Miami, and made it her personal mission to make sure the palest of the bunch wore sunscreen at all times. The parasol she offered wasn't a suggestion, it was a demand. She was La Doña of her street, and everyone knew it.

Our second host had a day job as a journalist, and she subtly relayed the realities of her limited role to us. She worked for one of the three newspapers in the country, which spoon-fed the stories she was meant to publish. Her husband, a chef from Italy, bemoaned the sudden shortages of certain foods on the market. A week without tomatoes could be followed by a disappearance of onions the next.

///

A jolly old taxi driver had to interrupt our animated conversation– his wife was calling! The caller ID? A photo of a smiling lady with the contact name "Mi Sol Eterno"

An elderly man stopped us on the street to practice his English, and flipped through his ration book to give us a glimpse into his daily struggles. He started out by insisting he didn't want any money, and subsequently ran us through his comedy routine of the different accents of Latin America, playing to the audience. He told us that he loved the chance to converse with so many different people, and that Cuba's new openness was a great opportunity to practice the many languages he had learned. The one problem though, was the now common sound of airplanes flying overhead. This was noise pollution he couldn't abide by.



One night we headed up in a creaking warehouse elevator to a hidden rooftop dance spot. The doors shuddered open, and we were met with the sounds of glasses clinking, dance music on high and…buzzing? At the first right turn from the entrance, a young man was getting a sizeable bicep tattoo. Overlooking the night lights of La Havana, we spent the evening chatting with Nestór about his friend's recent art gallery opening. Their whole group was there, and had been celebrating for the past 36 hours.

We walked along the Malecón late at night, nursing our bottles of Cristal beer. We sat admiring a group of people who looked about our same age spill onto the street– laughing, joking and of course, dancing salsa. They called out to us, and invited us to join them. Feeling shy wasn't an option, as the whole group ran across the empty four lane highway and wrangled us over to their boom box. The ladies patiently reviewed the basic steps with us, and the guys twirled us around. The dance student among our group stole the show with a modern-salsa freestyle, cutting into the middle of the circle. She and her partner danced to a song he had mixed himself earlier that day. All of us were transfixed as these two strangers moved in perfect harmony, to a song that was born only hours before. When the song ended, we stood in silence, and then erupted in joy. Neither group of friends could believe it. I interpreted their conversation, as the need for words had just now arisen. He asked where she had learned to dance, he liked her style. Likewise.

///

Getting caught in the rain on the beach, we decided to wait out a glut of rain under a gazebo. We played cards and watched two men swim with a bottle of Cuba Libre tucked into their shorts. Daring. On the way home, we sang along to J Balvin's new album with our taxi driver. He steered us away from a questionable pizza parlor just down our street– "comes allí y te muueeeeres!"



The last haiku illustrates the arbitrary nature of categorizing our trip into a government-approved reason. It features a snippet from our stop through U.S. immigration control, as relayed by my incautious friend.

Purpose of travel?
"Oh, just for pleasure, girls trip"
Let's try again, miss